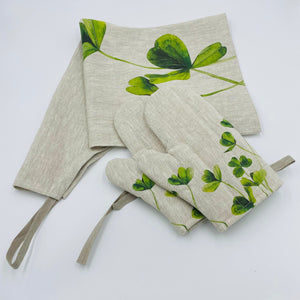 Bespoke and Exclusive Hand Painted Shamrock inspired by the beautiful flora and fauna from West Cork as well as the history and folklore of the Emerald Isle. Printed on 100% Irish Linen.
Adjustable strap around neck allows for different sizing options.
WASHING INSTRUCTIONS 
Tempretures - Hand or machine wash at around 30˚C. White linen products should be washed separately.
Drying - Avoid tumble drying because linen will bunch up & be difficult to iron. For best results line dry or dry flat/folded in two over a radiator.
Ironing - If required, iron slightly damp.