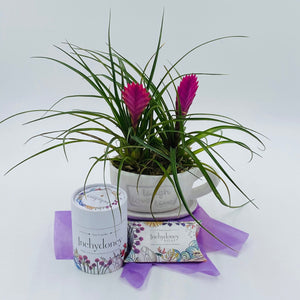 The perfect relaxing night starts right here with this gorgeous gift box. Relax, unwind, breathe deep. Hand-poured and made from 100% natural soy wax, this fragrant beauty will spread joy, light and the lovely scent all around you. 

This year, as well as it all being about sustainability and feeling good, it's about supporting local businesses - this gift set is the perfect set to bring together awesome products that are made in Ireland and are also nice for the environment. 
Gift box consists of Teacup planted up with seasonal flowers, candle and soap.