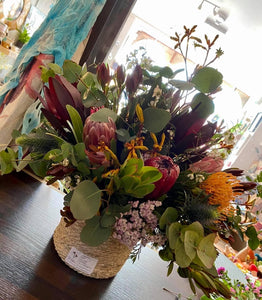 The genus Protea was named in 1735 by Carl Linnaeus, possibly after the Greek god Proteus, who could change his form at will, possibly because they have such a wide variety of forms.

Proteas attracted the attention of botanists visiting the Cape of Good Hope in the 17th century. Many species were introduced to Europe in the 18th century, enjoying a unique popularity at the time amongst botanists.

Fresh Bouquet available for Delivery or Collection.
***Delivery is available in Bantry, Skibbereen, Dunmanway and Kenmare and any places in between.