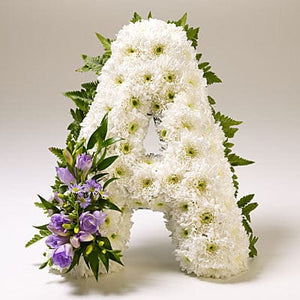 A massed white and lilac single letter tribute with a greenery edge, delicate lilac flower shoots and chrysanthemums. 

Available in a variety of designs, flower choice and colours. Send a family tribute such as Mum, Dad, Nan, Grandad or any other combination of funeral letters spelling out a name or nickname. Letter tributes are a popular choice and are often seen as a centrepiece tribute from the closely bereaved. They can be used to spell out names, titles or nicknames – whatever word you pick, it will be adorned with delicate floral detail in the colour scheme of your choice.
Should you require a tribute in excess of 7 letters please contact us to discuss your requirements.

Letters measure approximately 12" (31cm) in height.