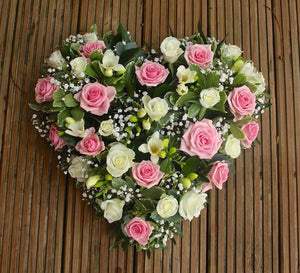 A loose floral heart tribute with a selection of greenery and different blooms in various shades of pink and white, with a greenery edge. Alternative colour options available.

A slightly different and less formal way of presenting a floral heart tribute, our loose floral hearts are crafted on a bed of seasonal foliage. The hearts are then detailed with carefully selected range of blooms which then perfectly complete the rustic, traditional look.

Our loose heart tributes are available in a wide selection of different blooms and greenery in a range of colours.

Standard heart measure approximately 12" (31cm) in height. Available in 4 sizes 12" 15" 18" 21"