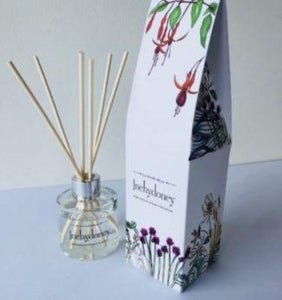 Diffusers are a safe way to scent your home. Inchydoney diffusers dispel natural oils into the air, which are bursting with beneficial health-promoting ingredients.
There are four Inchydoney Essential Oil Diffusers.
Rosemary and Lemon oils both relieve stress. Lemon oil is calming in nature and therefore helps in removing mental fatigue, exhaustion, nervousness, and nervous tension. It has the ability to refresh the mind by creating a positive mindset and eliminating negative emotions. It is also believed that inhaling these oil helps in increasing concentration and alertness.
Lavender is perhaps the most versatile and popular of all essential oils. Lavender is great for relaxation, heart health and well-being in general. There are many studies proving the effectiveness of lavender on stress, depression and anxiety.
Orange and Bergamot oils are emotionally uplifting! Bergamot relieves anxiety and stress. Orange oil has antiseptic properties. Bergamot oil is good for lowering depression and bringing an uplifting aura to the air. And they smell citrussy fresh and beautiful.
Lime and Basil oils have a fresh, spicy, herbaceous aroma. Basil oil is renowned as a stimulating oil and can be used to clear the mind and counteract fatigue. It is an unusual choice for a diffuser, but mixed with lime, it gives a familiar scent that helps improve concentration and stimulate the mind!